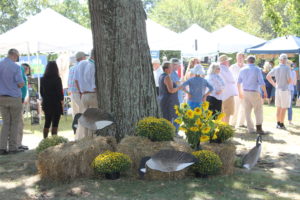 This event is SOLD OUT. We are overwhelmed by your enthusiasm for land conservation in the Northern Neck. Thank you!
Northern Neck Land Conservancy is delighted to announce that our annual Boots and Barbecue event is back and better than ever!
Boots and Barbecue is a celebration of all the things that drive Northern Neck Land Conservancy's commitment to protecting working farms, waters and woodlands in our region. Each year the event is held in one of the five Northern Neck counties or Essex on the Middle Peninsula – and always on an acreage that is permanently protected by a conservation easement.
"Boots" has quickly become known as one of the most enjoyable outdoor, fried oyster-eating opportunities of the year. This year's event is on Saturday, September 17 from 1:00 to 4:00 at Waterloo Farm on the Potomac in King George. It features a delicious barbecue buffet, live music, and exhibitors and demonstrations that reflect the rural character of the Northern Neck: You won't want to miss it!
We are grateful to the generous event sponsors who demonstrate their commitment to our community by supporting Northern Neck Land Conservancy through Boots and Barbecue. We also appreciate the local exhibitors who help make this event so enjoyable.
Click the buttons below to purchase tickets.
Questions? Please contact Executive Director, Lisa Biever: lisa@nnconserve.org or 804-250-2334 
Thank you for being part of our special event and supporting the Northern Neck Land Conservancy mission – to preserve the rural heritage of the Northern Neck by conserving its lands, water, economies and culture for future generations.
Thank you to our Sponsors!
Venue
Stuart and Mindy Ashton
Signature Bar Sponsor
Chesapeake Wealth Management
Leader Level Sponsor
Bartlett Tree Experts
Partner Level Sponsors
Bevans Oyster Company
Cowart Seafood Corporation
James River Equipment
Kathryne and Johnny Mitchell
Micki and Ron Pugh
Tri-River Investment Group of Davenport & Co
Steward Level Sponsors
Bays Best Feeds
Mason Brent
Barbara and Tal Day
Dominion Energy
EXIT Realty Expertise
Susan and Jack Moore
Bridget and Patrick Neill
Northern Neck Electric Cooperative
United Bank
Virginia Conservation Credit Exchange
Kate and Brad Vogt
Supporter Level Sponsors
Allison's Ace Hardware
B. H. Baird Insurance Agency
Carroll's Automotive
Dug In Farms
Stephanie Hanchey and Mike Purello
King George Economic Development & Tourism
Martha and Jim Lynch
Magic Tree Service
Noblett Appliance
Rappahannock Restoration
Rivah Lawn and Landscaping
Margie and Frank Stevens
Stevenson Walker
Susan and Robert Wayland