Northern Neck Land Conservancy
Protecting the Land – Celebrated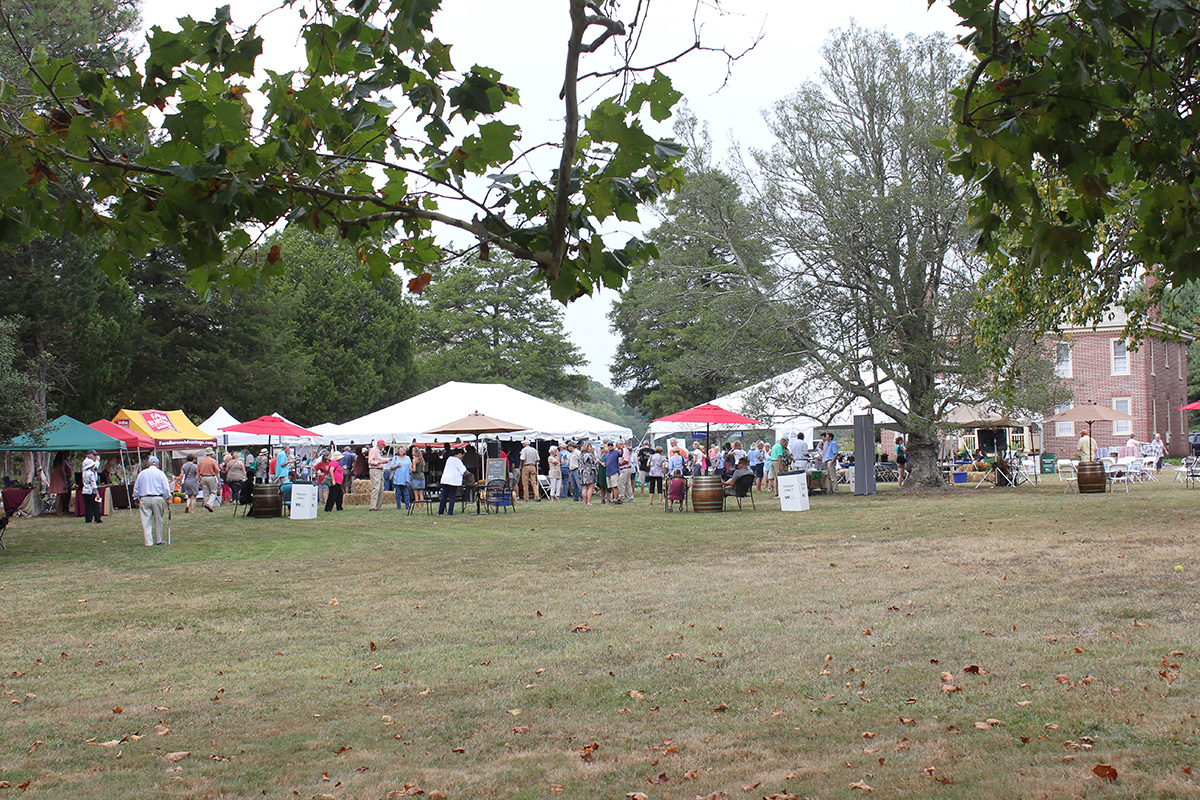 The Northern Neck Land Conservancy (NNLC) celebrated its fifteenth anniversary with its annual fund raiser and garden party, Boots & BBQ, last Saturday, Sept. 28th. A sold-out event with well over 300 people in attendance, the gathering was held at the historic Ditchley property which is now a working farm, cidery and a private event venue. Sunny calm weather, historic venue, made-on-site hard cider, beer and wine, great music (the Gurleys) and fabulous food (Angelo's of Montross) was savored and enjoyed by all in attendance. Many conservation easement holders were in attendance and this celebration was, in part, a tribute to their progressive outlook to preserve their land in perpetuity.
Presenting Sponsor Chesapeake Bank/Chesapeake Wealth Management contributed generously not only to the event, but also to the year-round operation of the Northern Neck Land Conservancy. Also, in honor of NNLC's 15th Anniversary, the inaugural Conservers of the Land donor group was created and counted James River Equipment, Mason Brent, Susan and Jack Moore, Pat and Bridget Neill, Mary Louisa and Albert Pollard and Paul and Rosemary Trible among its members. Additional corporate support came from B.H. Baird, Atlantic Union Bank, River Counties Community Foundation, the Vogt Family Foundation and Geise Farms. Davenport and Company, Dehnert, Clarke and Co. and Sona Bank also joined as donors. Oysters were donated from Angelo's Bevans, Cowart, and Faunce's oyster houses and the always popular fried oysters were served in abundance. Kellum's donated scallops to the pre-Boots President's reception. Lastly, beautiful sunflowers and seasonal blooms were especially grown and donated for the event by Dug In Farms.
Local conservation organizations set up booths and spoke to attendees about what they do and how they do it including the Northumberland Association for Progressive Stewardship (NAPS), Rappahannock River Valley National Wildlife Refuge, Tidewater Oyster Gardeners Association (TOGA), NN Master Gardeners, NN Beekeepers, NN Native Plant Society and NN Master Naturalists. The Conservancy's booth introduced the public to their goals and objectives while distributing information and fabric shopping bags to help eliminate those plastic grocery bags we see in fields, trees and the Bay.
No better venue for the event exists to spread the word on conservation easements then the Ditchley Property and its owners, Cathy Calhoun and Paul Grosklags. This couple acquired the land to create a sustainable business focused on agriculture and tourism while protecting and conserving this unique historic property. While purchasing the property, Cathy and Paul worked with the Northern Neck Land Conservancy to place 160 acres, including the waterfront on Dividing Creek, into a conservation easement. This whole package allowed them to create the Ditchley Cider Works and in honor of their multiyear efforts, the Conservancy designated them the Conservation Champions of 2019, a tribute the NNLC awards each year in honor of conservation efforts in the Northern Neck.
Monies raised from Boots and BBQ is used in the Conservancy's programs to help and assist landowners in procuring easements and the continued monitoring of those easements – in perpetuity. More information can be found at the NNLC website nnconserve.org.