Rappahannock Record September 29, 2022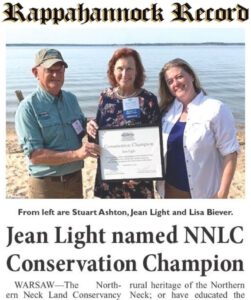 WARSAW—The Northern Neck Land Conservancy (NNLC) announced its 2021 and 2022 Conservation Champion at its recent Boots and Barbecue event.
The NNLC preserves the rural heritage of the region by conserving its lands, waters, economies and culture for future generations. It supports landowners and is steward to conservation easements in six counties from Lancaster up to King George, as well as Essex County on the Middle Peninsula, reported executive director Lisa Biever.
The NNLC established its Conservation Champion award in 2015 to recognize those in the community who support protection of the rural character of the Northern Neck in a significant way.
To be chosen, a Conservation Champion must have significantly contributed to the protection of natural resources on the Northern Neck; or have contributed to preserving the rural heritage of the Northern Neck; or have educated the public about the benefits of conservation.
Jean Light, the 2021 and 2022 Conservation Champion does all of these, said Biever.
Light serves as vice president of the NNLC board of directors and leads both the fund development committee and the board development committee. Over her six years on the board, she made numerous contributions to Northern Neck conservation. In particular, she was essential to establishing the NNLC land conservancy endowment to help ensure the organization is prepared to steward conserved property perpetually.
"A regional land trust relies on local leaders who are passionate about preserving working farms, forests, historical sites, scenic views, and healthy watersheds," president Stuart Ashton. "Jean Light is exemplary as a champion of conservation in the Northern Neck."