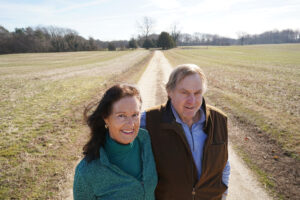 When Bill and Leigh Ann Miller took the leap to buy Kirnan, a period 1780s home on 83 acres in Westmoreland County, it was because they loved the place and appreciated the challenge of restoring the ancestral home of the Garland, Campbell and Bowie families.
But as the couple who then lived in a historic home in Alexandria began repairs that took years, they learned enough details and history about the house and its grounds to develop a heartfelt love and loyalty that's almost like a human relationship.
Leigh Ann Miller, who works for a large tech company, does an eloquent job to put that respect into words, "It feels, here in my heart, that we are blessed to be the custodians of the architectural history, our American history from 1761 and before, and the history of the Garner family and previous generations," she said. "It means being a steward to the land and being custodians of the history here."
Though the Millers purchased the property, once known as China Hill, in 2011 they had ties to the area and had valued natural and rural spaces beginning in childhood. Leigh Ann's grandfather owned a family cottage at nearby Sandy Point, where she spent much of her youth on the water and in the wilds around it. Bill, who became a lawyer by trade, grew up in Missouri on 300 acres outside of Jefferson City where he spent his time catching catfish, camping and enjoying the open spaces. Joining his wife at Sandy Point for the first time some 42 years ago, Miller said his habit of searching out interesting land and houses eventually moved the couple to purchase and renovate houses in the area around Sandy Point.
When the Millers noticed a "For Sale" sign at Kirnan, they toured the property and house, and knew it belonged on the Virginia Landmarks Register and the National Register of Historic Places, but needed extensive renovation and repair.
"We had water pouring down through a chandelier," said Bill Miller. "Thieves had come in and ripped the copper (piping) out of it. Thankfully, they were lazy thieves and didn't go too far into the walls." They heard about the 6-foot black snake that off and on lived behind the walls from a plumber who'd seen it.
Though the challenges were daunting, Leigh Ann said from the moment they walked in, "There was a positive karma and a felt sense of history that makes it unique."
They quickly began researching the home, discovering it is linked to the Campbell family of Scotland, and named for their 13th Century hunting cottage called Kirnan. Consulting with a bevy of experts and academics, they filled in gathered architectural data. Looking at the building materials – including the dendrology of the lumber – and design features, they pinpointed the house construction date at 1781.
Another more immediate source of history soon presented itself: Garner family descendants began calling, stopping by and sharing the history they'd heard around dinner tables or lived themselves.
Initially, the couple saw the restoration as a fun project and quickly gained such respect for the property they began to feel responsible to ensure it would stay as it is for generations to come.
According to Bill Miller, the economic benefits from protecting the property through an easement with the Northern Neck Land Conservancy helped offset the costs of the arrangement, but the true value to their family is knowing the still-farmed tract will look the same 100 years from now.
The Millers note that their son and daughter feel that connection as well, and it's a unique treat for the whole family to now feel a connection with families tied for so many generations to the land.
"We worked it out so the Garlands had a reunion here, and it was fascinating to hear details they knew about the house and the way the farm operated," said Bill Miller.
From the 1920s to the 1950s, Walter Bowie Taylor and his wife Genevieve (Brown) Taylor were operating a diversified farm on the property with cattle, pigs, chicken houses, and a dairy processing facility. Dairy products such as milk, eggs, and cream, cheese, were taken to Warsaw, picked up for the Tucker Hill Store, and sold to the Washington Dairy Company. It was designated a Century Farm because it had been operated for at least 100 consecutive years by generations of a single Virginia farm family.
The Millers purchased Kirnan from Genevieve (Taylor) and John Morrow. The associated acreage remains in active use, with open lands currently leased for farming.
"We had Garner cousins who are our age knock on the door one day and say they were so glad we'd bought the house and were going to save it. One person interested in buying the property was going to tear it down," she said. The cousins recognized Leigh Ann's grandfather from his picture on their wall.
"They said, 'Dr. Adams used to come here all the time to get his favorite brown eggs, as well as butter.' I asked my dad about it and he remembered coming along when he was 9 or 10, driving the back roads from Sandy Point and going down in the basement where they kept the eggs."
Sometimes the Miller's research led to correcting details handed down with the house. One was the folklore that George Washington himself had gone to school at Kirnan, a rumor that the families connected to the house had passed down. Leigh Ann examined the story for accuracy and learned that it was John Campbell who owned their house in Washington's time, not Archibald Campbell, who was Washington's teacher, as well as James Monroe's and James Madison's.
"But that instruction from Archibald Campbell happened at his home near Oak Grove, not here," she said. "That makes sense when you consider how far it is from here to where Washington lived."
Bill Miller finds it interesting to envision Colonial times in the region around Kirnan.
"You come down that driveway now and think about who came during the time when this house was built," he said. "There were only a handful of houses around here at that time. Historic Yeocomico Church is just behind Kirnan. The Garners maintained a path to it over the years that's still here today."
Miller shared that an elderly Garner relative who visited after they purchased the house took a tour indoors and described taking a buggy ride from the house, where she was married, to the church.
"It's neat to have people come back like that, and that she was able to come back to her home place," he said. "That makes all of the work we've done here worth it."
History of the House Now Called Kirnan
Kirnan stands on land that was part of the Matchotic chiefdom of the Algonquin people when the first English settlers arrived in the Northern Neck in the 1600s.
John Mottrom was probably the first Englishman to settle on the Virginia side of the Potomac River. His settlement at Coan Hall in the 1640s was the beginning of a land boom that led to the establishment of the four counties of the lower Northern Neck. Westmoreland County was created in 1653.
The Garner and Campbell families were locally prominent families in Virginia's Northern Neck. The Garners descended from a 1663 initial land grant and the Campbells were early Scottish immigrants, arriving in Virginia in 1745.
The Garner family of Northumberland and Westmoreland counties owned this property from around 1663 when Susanna Keene Garner's family obtained an assignment of an 875-acre patent, which includes the Kirnan property. For nearly 150 years, the Garners were among the top of the "lesser gentry" of this part of Westmoreland County. The land title passed from the 1663 Keene grant to Henry Garner in 1706, to Thomas Garner in 1741, to James Garner ca. 1757, then in 1796, 115 acres passed to George Garner.
George Garner (1750-1809), was of the fourth generation Garners, and the third born of ten children. He married Anne Middleton in 1790. The original 1,000 square-foot house was built in 1781 and named China Hall.
George Garner served in the military during the American Revolution as a 2nd lieutenant in Captain Daniel Morgan's militia company. Representing Cople Parish in Westmoreland County, he was named as a vestryman in 1785, named as Coroner by the Governor of Virginia in 1792, and was employed as a justice of the peace in 1794. From 1799-1803 he served as Westmoreland's representative in the Virginia General Assembly.
Kirnan is the only house owned by the Garners which still stands. As was the case with most of Tidewater Virginia's prosperous families, their economic success was due in part to reliance on an enslaved workforce of African American people. Based on historic records, it appears that Anne Middleton brought some of them to the marriage as part of her dowry.
In 1787, George Garner paid taxes on 45 enslaved people, who at that time were treated as personal property under the law. Garner's other assessments included 9 horses, 51 head of cattle and a two-wheeled carriage. By 1808, George Garner owned a total of 903 acres, placing him in the county's top tier of landholders. By 1808, he deeded China Hall to his wife in an attempt to insulate it from his creditors. He died not long after in 1809.
In 1819, Anne Middleton Garner made a will and conveyed her interest in the property to William Wright, son of her nephew William Wright. A deed from James Wright to John Campbell for 200 acres for $1,500, was executed in 1822 and stated it was the property given to Anne Garner by her husband.
When he purchased China Hall in 1822, John Campbell (1775-1827) renamed the dwelling Kirnan, after the Campbell ancestral home in Scotland. Campbell was a wealthy and distinguished lawyer, a Commonwealth's attorney, and a judge of the Superior Court of the district including the Northern Neck. He also served as Westmoreland's Representative in the Virginia General Assembly from 1803-06 and in the Virginia State Senate from 1809-17 and represented Washington Parish in one of the constitutional conventions. Campbell was named one of the school commissioners of Westmoreland County in 1823. The school commission was a result of a bill in 1818 that provided the legal basis for a limited public education system in Virginia until 1870.
John's father, Archibald Campbell (1708-1774), was one of the early Scots immigrants to Westmoreland County and was the well-known minister/rector of Washington Parish from 1745- 1774. Parson Campbell's contributions are documented, and he is honored at St. Peter's Episcopal Church (Oak Grove) as a hero in the Northern Neck. His portrait also hangs in the Westmoreland County Museum in Montross, Virginia.
Rev. Campbell was the uncle of the famous English poet Thomas Campbell and thus John Campbell was the first cousin of the famous poet who wrote to and about his American cousins. When John Campbell died in 1827, a court-appointed surveyor assigned to Campbell's widow, as her dower, two of her husband's plantations, including Kirnan, which was "the place at which she has resided ever since the death of Mr. Campbell." Elizabeth Campbell remained at Kirnan until she died in 1839.
In 1842, John and Elizabeth Campbell's five daughters sold Kirnan to Walter Bowie. From 1843 forward, Kirnan descended by inheritance from Walter Bowie to son Edwin Bowie, then to nephew Walter Bowie Taylor, and then to youngest daughter, Genevieve Taylor, wife of John Morrow, Jr.
The Bowie family, too, relied on enslaved African Americans to generate their wealth. Walter Bowie, Sr. is notable for keeping records of the enslaved African American women along with their offspring from 1831-1850; these materials are now housed at the museum at Stratford Hall in Westmoreland County.
Although it can be assumed that some of these women and children lived and worked at Kirnan between 1843 and the outbreak of the Civil War, Bowie did not indicate where people lived on his massive holdings, which included most of the land at Coles Point in addition to Kirnan. The 1850 Federal Census recorded that Walter Bowie Sr. owned 61 enslaved individuals of various skill, gender, and age.
Bowie was also at one-time sheriff for Westmoreland County. His gravestone, which survives in a cemetery near Coles Point, records Bowie "departed this life at Kirnan his residence" in 1853. According to the Taylor family research and records, Walter's wife, Mary Bowie, survived him by at least 7 years.
Kirnan is situated on Zion Church Road, named for Zion Baptist Church, which is home to one of the oldest African American congregations in Westmoreland County. Before slavery ended in 1865, according to local tradition, services were first held under a dogwood bush arbor on Gawen's Farm, near Tucker Hill, approximately two miles from the property. The members had most likely worshiped at the nearby white Machodoc (Sandy Valley) Baptist Church. Zion Baptist Church was formally organized in 1867 when the congregation constructed a log building. During the latter half of the 1800s, a fire and expanding membership required the construction of two other buildings.
In 1870, Walter and Mary Bowie's son Edwin and daughter Mary Julia were living at Kirnan, and retained ownership until at least 1912. Edwin Campbell remained a bachelor all of his life, farming and taking care of his mother and sisters.
From the 1920s to the 1950s, Walter Bowie Taylor and his wife Genevieve (Brown) Taylor were operating a diversified farm with cattle, pigs, chicken houses, and a dairy processing facility. Dairy products such as milk and cream, eggs, and cheese, were taken to Warsaw, picked up for the Tucker Hill Store and sold to the Washington Dairy Company.
During Kirnan's ownership by the Bowie/Taylor family, the property was listed among Virginia's Century Farms, a designation for farms in operation for at least 100 consecutive years and in the generations of a single Virginia farm family.
In 2011, William H. and Leigh Ann Miller purchased Kirnan from Genevieve (Taylor) and John Morrow. The associated acreage remains in active use, with open lands currently leased for ongoing farming under the Millers' ownership.
Kirnan – China Hill was listed on the National Register of Historic Places in 2019.